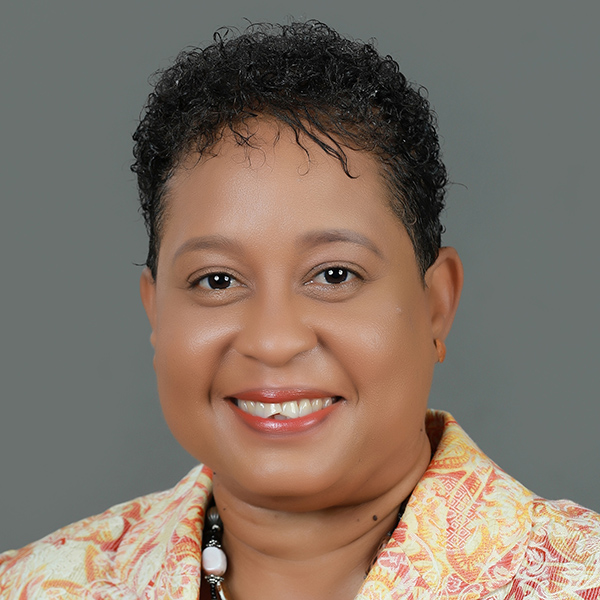 Jennifer Williams
Ms. Jennifer M. Williams, J.P.,  the passionate, dynamic and visionary leader, was appointed in 2010 the Principal of The Queen's School, a public all girls' institution owned by the Anglican Diocese of Jamaica and the Cayman Islands,
Ms. Williams is a graduate of Wolmer's High School for Girls' where she taught for eight (8) years after graduating from the Edna Manley College for the Visual and Performing Arts in 1997, majoring in Drama in Education. She is also a proud Human Resource Management graduate of the University of the Commonwealth Caribbean (formerly IMP) and also of the University of Sheffield (England) where she attained her Masters in Educational Leadership.
In an effort to gain Private Sector experience, Miss Williams, in 2005, joined the Dispute Resolution Foundation (DRF), a Non-Government Organization (NGO), as Training Manager interacting with communities and various Governmental and private organizations across the Island for five (5) years.
In addition to being the President of the Association of Principals and Vice Principals and Chairman of St. Mary's Early Childhood Development Centre (Basic School), Miss Williams is a Justice of the Peace (J.P.) and serves on the Lay Magistrate's Bench, Kingston Chapter, once per month.  She is also a Certified Supreme Court Mediator.  Recently, she was appointed Deputy Chairman to the Steering Committee of the National College for Educational Leadership (NCEL)
Being a Sports enthusiast, Miss Williams is currently an Executive Member of Inter-Secondary Schools Sports Association (ISSA) with responsibilities for swimming, Hockey and Publication for the Boys and Girls Championships.
Socially, Jennifer is an active member of the Human Resource Management Association of Jamaica (HRMAJ) and on being a Soloist; she Cantors at St. Mary's Anglican Church and is also a member of the National Chorale of Jamaica and the Jamaican Folk Singers for over fifteen (15) years.
As an educator she believes Education for Nation Building which will in turn earn the respect and equality for all.